Oct
2011 26
Last night the #OccupyOakland protest, a thus far entirely peaceful assembly of local demonstrators, faced the most aggressive police onslaught of any U.S. occupation since the #OccupyWallStreet movement began.
The story is only able to be told in short bursts, piece by piece from photos and videos recorded by those who were there. Here is a set of links and media:
The evening starts calm enough with between 2,000 and 5,000 coming together near Snow Park. Photo from Instagram user @diondecibel.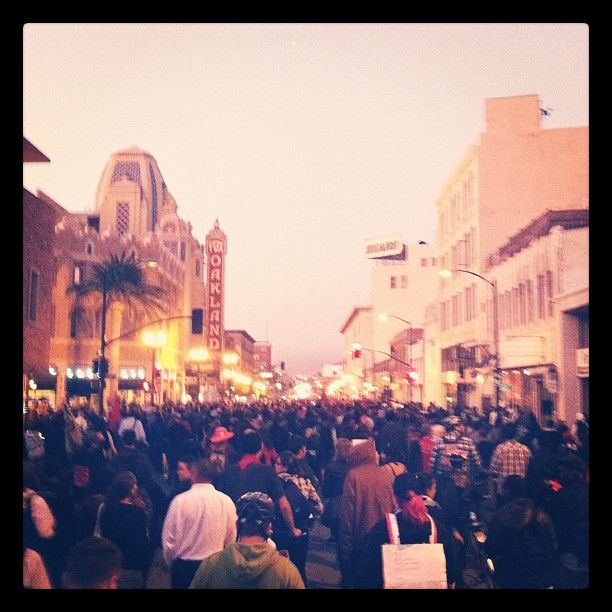 One of the first aggressive tactics used by police was rubber bullet guns. Photo from the @OccupyOakland Twitter stream.
Two more bloody protestor photos are HERE.
In this video, watch as people try to help an injured person when police continue to pelt them with smoke and sound grenades. This appears to be early on in the gassing.
A woman in a wheelchair is caught in the crossfire of smoke and gas. This photo, from @Adreadnonymous's yfrog account, rapidly became the early image of incitement online last night.
It starts to get crazy with the tear gas caught on video:
More video and injury photos appear on RT.com and The Washington Post.
This video appears to contain an injured Marine veteran:

For a plan that the Oakland Police Department claims took a week to plan, it sure didn't go too smoothly.
Many are claiming that the Oakland Police Department is lying about the reason it took violent action. Here is an L.A. Times piece containing their position. As everyone knows, Oakland policy have history of violence unrivaled by most police departments.
The bottom line? Police wearing gas masks to beat back peaceful demonstrators.
RELATED: In Atlanta, the first elected official, State Senator Vincent Fort (D), is arrested.