Oct
2011 9
Apparently, a photograph of a police officer with a heart (above) has royally pissed off some members of the NYPD.
We're gonna need a fresh batch of angry cops if that's the case, since over 300 #Occupy solidarity events are taking place in the U.S. DailyKos has this great listing.
Meanwhile, #OccupyLondon sprung up this weekend.
Don't miss this clip from Bill Maher's program featuring Alan Grayson, former Florida Congressman, deftly summing up the #OccupyWallStreet movement in his own words. The protesters are adamant about being "leaderless" and refusing to be "co-opted," but Grayson nonetheless lends a little political credibility and a quality blueprint for speaking about the movement.
This cool photo is from #OccupySanDiego, posted on Twitter:
And this photo is from the New York #OccupyWallStreet event on Saturday at Washington Square Park. Tweeted by Michael Moore (@MMFlint), it has garnered over 30,000 views: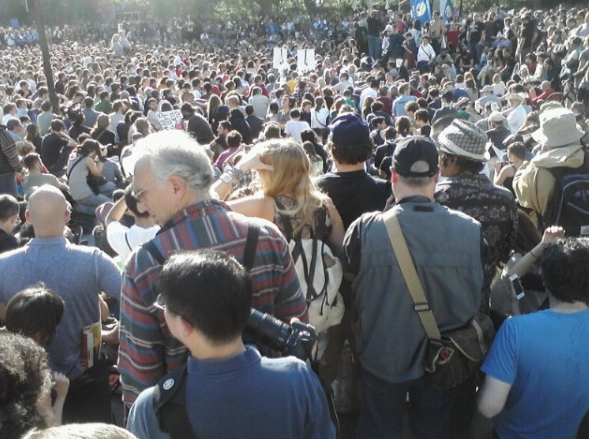 A fantastic critical take appeared on Hullabalo. It suggests the divide between the ideological factions in the U.S. is as deep as ever, calling in to question the ability of #OccupyWallStreet to truly bridge the gap:
I know it's not fashionable to say this, but it must be said: the fault lines in American politics are as deep as ever and despite our common economic victimization at the hands of the elites, it's going to be very, very unlikely that the entire 99% will rise up against the rest. It's just not who we are. And the particular fault line Romney is tapping in that speech is about to open up as the anti-war movement joins the Wall Street protests. I'm not against that — to me it's all part of the same thing — I'm just pointing out that the fault line still exists and that we shouldn't lull ourselves into the same delusions that the Tea Party had when it convinced itself that it was already speaking for everyone in the nation. This stuff goes way deeper than people want to believe. We've been fighting along these lines from the beginning.
Last but certainly not least, the New York Times discusses the impact of social media on the burgeoning protest.