Aug
2011 4
The undercard of the debt ceiling fight has quickly become the main event in Washington as the House of Representatives, led by a reluctant Republican contingent, all but adjourned for the summer leaving nearly 90,000 jobs and $200 million-per-week in tax revenue on the Capitol floor.
Transportation Secretary Ray Lahood made waves yesterday morning when he called in to C-SPAN to express his outrage over the inability of "one or two people" to do the right thing:
LaHood, a Republican who served in the House, called in to C-SPAN's "Washington Journal" show to rip Congress for not passing an FAA reauthorization bill before recessing for the summer. LaHood did not specify the one or two people he was talking about, but praised Senate Majority Leader Harry Reid (D-Nev.) for putting aside his state and ego to resolve the stalemate. He said Reid was willing to move a House-passed bill through the Senate even though it would have cut funding for an airport in Nevada.
Reid "stood tall," LaHood said.
Throughout the interview, LaHood pointed the finger at Republicans for being "stubborn," saying the failure of Congress has led to the loss of 4,000 jobs at the FAA and 70,000 construction employees stopping work.
Similarly, Building and Construction Trades Department (BCTD) President, Mark Ayers, issued a scathing letter to the 112th Congress. BCTD represents over two million union construction workers, many of whom are those left without their runway pay during the shutdown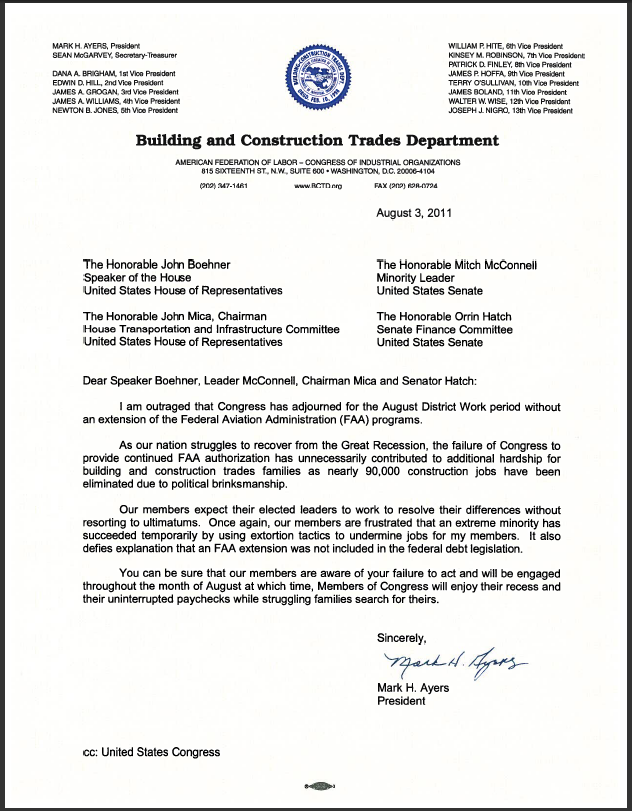 Ayers' assertion that the debt deal should have included the FAA funding renewal is part and parcel of the "Democrats caved" meme — another easily includable, highly popular provision that was ignored by the Administration.
Another emerging though under-reported nuance of the shutdown fiasco is union-busting Delta Airlines' involvement in making it all happen (or, not happen, that is). Dave Johnson sheds light on the matter in "Delta's Greed Helps Shut Down the FAA":
This shutdown of the FAA has occurred because of a form of "government shutdown" by Republicans, at the behest of Delta Airlines, over rules about unionization elections. Delta is in the middle of a fight to keep workers from being able to form a union. Delta wants the rules changes so a nonvoting worker, including one who might be sick, on vacation or otherwise absent from the workplace on election day, is counted as a "no" vote for unionization. Republicans inserted this anti-union language into the FAA funding reauthorization and are refusing to fund the agency unless Democrats agree to change these union election rules to help Delta.
Delta is apparently calling in favors to get this. According to Campaign Money Watch, in Is Delta Using Its Campaign Cash to Influence the FAA Debate?,
Delta's been spending money wisely to try to overturn the decision to let workers organize more easily. They spent $1.6 million on lobbying during the first half of 2011, according to the Center for Responsive Politics. (Over the past ten years they spent at least $32 million to influence Washington.) Their PAC has given $826,243 to members of Congress since 2000. Adding additional incentive for Republicans in Congress to stand with them, Richard Anderson, Delta's CEO, made a $5,000 contribution to the Senate Republican's campaign committee earlier this year — apparently his first one ever.
In response, actions are being taken by legislators around the country. Congresswoman Sheila Jackson Lee (D-18th TX), the ranking member of the Transportation Security Subcommittee of the House Committee on Homeland Security, and Mario Diaz, Director of the Houston Airport System and the Houston Airport System community, will take to the terminal of Bush Intercontinental Airport to "explain the implications of the partial shutdown of the Houston Airport System." The event will take place at 1030AM Texas time, according to a press release.
Similarly, Rep. Tim Bishop (NY-1) will be holding a noon press conference at MacArthur Airport in Islip, NY, a town affected by the shutdown. This is not Bishop's first stand for workers' rights. He recently entered T-Mobile's union-busting efforts into the Congressional Record.
"While Congress is on recess," Bishop writes in a release, "airports around the country will lose $2.5 billion in federal dollars for vital airport improvement projects because airlines are no longer collecting these ticket taxes." 
In Kalamazoo, Michigan, the Laborers of LIUNA will hold an AFL-CIO sponsored event at 11AM on Friday (Airport 5235 Portage Rd, Kalamazoo, MI).
Below, labor radio host Rick Smith weighs in on his nightly address: